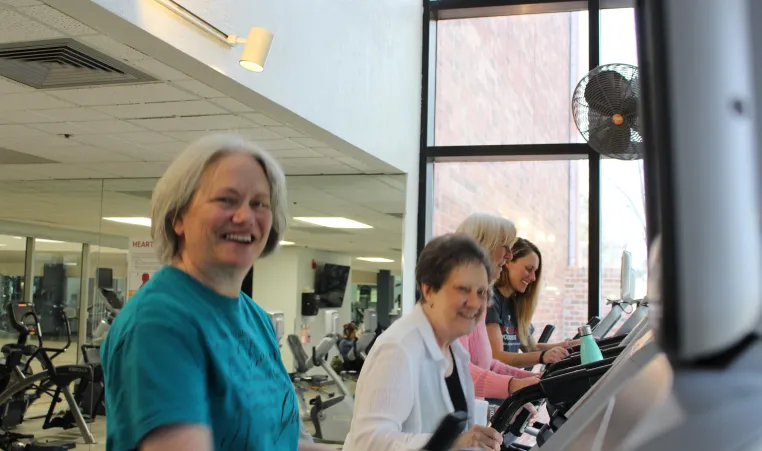 (Photo: L-Eileen Eastridge and her Livestrong class members at the Littleton YMCA.)
September 14, 2022
By Eileen Eastridge, for the YMCA of Metro Denver
On June 22, 2020 (my daughter's birthday), I was diagnosed with stage 4 metastatic breast
cancer. The cancer was found in my breast, lung and liver, as well as boney areas of my L3,
sacrum and left iliac. My L3 had broken and collapsed twice, and I was in severe pain and had
difficulty walking.
My family and I were shocked and devastated at this news, but I did feel a sense of relief to
finally know the reason for the symptoms I was experiencing. This diagnosis is a terminal one,
which means that I will be dealing with treatment, symptoms and side effects for the rest of my
life, however long that may be. My husband and I discussed that we want the main perspective
for my care to be "quality of life."
The doctor prescribed a series of radiation treatments to the boney lesions, which was grueling
and made it necessary to use a walker. The radiation, coupled with monthly injections, provided
miraculous results and my bones and nerves have healed significantly.
I was also prescribed a hormone blocker and an oral chemo, which I am blessed to be able to
take at home each day. This combination has done above and beyond what was expected and
has even shrunk my tumors. Unfortunately, these medications come with side effects, including
physical stiffness, fatigue and low moods. I was getting weaker and weaker, and the sadness
was becoming a real problem.
To help alleviate the side effects, my doctor gave me information about the LIVESTRONG at the
YMCA program at the YMCA Metro Denver, and I joined the group in December of 2021. This
program is a free 12-week program for cancer survivors to rebuild health and build community.
I expected to exercise and was happy to have accountability to help keep me on track.
However, the icing on the cake came in the social support I found. The LIVESTRONG group is
a strong dose of the very best medicine! I found a new community of supporters who
understood what going through cancer is really like.
According to research from the Yale Cancer Center and Dana-Farber/Harvard Cancer Institute,
participants in the LIVESTRONG program at the YMCA experience improved fitness and quality
of life, as well as significant decreases in cancer-related fatigue. We all know that exercise can
help you feel better no matter your age or skill level. However, it is especially important for
people living with cancer.
LIVESTRONG at the YMCA classes teach exercise methods that are safe for people who have
cancer. Over the 12 weeks of the program, the group became stronger, more flexible and more
energetic. The instructors are trained in cancer survivorship, post-rehabilitation exercise and
supportive cancer care. Survivors receive a membership at the YMCA for the duration of the
program.
If cancer has impacted your life, this class can help. To learn about LIVESTRONG at the YMCA.