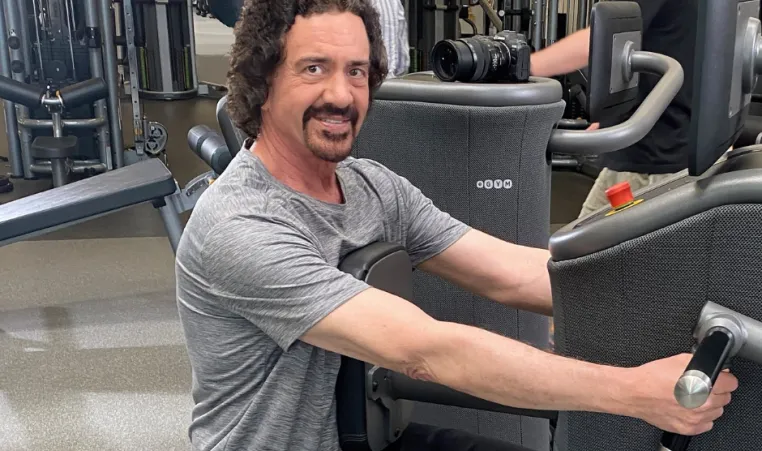 (Photo: Elias Jacobson using EGYM at the University Hills YMCA.)
August 26, 2022
By Elias Jacobson, for the YMCA of Metro Denver
Many people encounter times in their lives where things get really rough. My difficult period came about ten years ago. I had lost my sister suddenly, and a short time later my brother was diagnosed with an aggressive cancer, so I decided to move my life from California to Denver to support my parents. To cope with the stress coming at me from everywhere, I developed some unhealthy habits and soon found that my health and well-being had been severely impacted. In 2018 my brother passed away, and my doctor told me a Type II Diabetes diagnosis was imminent unless I took immediate action.
I realized that I needed to make significant changes in order to reclaim my physical and mental health. I yearned to get back to being physically fit and mentally sharp. I was blessed with longevity genes, if and only if, I took care of them! As a kid, I attended summer baseball camps and swim programs at the University Hills YMCA. I had enjoyed the Y's diverse offering of programs growing up, and I made many friends. Those positive memories led me to check-out the Y's adult programs. I knew the Y would support me in developing a long-term wellness plan with a full array of classes and staff to ensure long-lasting, sustainable results.
When I was younger, I loved long-distance cycling, so it was a great place to begin my journey back to health. The off-street trails located near my home made it a safe, easy way to ride anywhere in town. I started seeing the health benefits almost immediately, and the more I rode, the more I was motivated to continue my cycling. I also began to meet like-minded fitness friends at the Y. The camaraderie further motivated me to continue this healthy lifestyle choice, leading to my first 50 lbs of weight loss! It became easier to keep myself motivated as time went on.
In 2021, I joined the Y's year-long Diabetes Prevention Program (DPP) where participants are supported by a Lifestyle Coach and peer group in losing weight, learning about diabetes-specific nutrition, becoming more active, managing stress and staying motivated. This program was exactly what I needed to augment my return to bicycling. The program helped me get my A1C under control, and I have maintained a healthy A1C range ever since with the great tips I learned through the program.
I also joined the Y's Power Your Potential (PYP) program, a 12-week small group training experience. I loved that the program included an outstanding fitness coach along with super supportive teammates who, like me, were older and struggling with similar health and wellness issues. There was a strong nutritional component with this program as well. The Y's nutrition staff is conversant with every diet obstacle you could face. The healthy tips and tricks they provide help you safely navigate the ins and outs of fast-food restaurants and grocery stores. This comprehensive nutritional support helped me re-educate myself on how to shop, prepare and consume a balanced healthy diet.
I am grateful for the Y's health and wellness programs, because they helped me regain my physical strength, renewed my energy and helped give me a positive mental outlook. Moreover, they provided an accepting and comfortable place to form a supportive community devoted to staying healthy. I found the home-away-from-home I had been searching for at the Y. My Y friends are great influences and motivators. We keep each other accountable to our goals, yet we're there to support a teammate with helpful suggestions whenever they have a setback.
When I started my journey back to a healthier, happier me, I weighed 280 lbs. Through lifestyle changes and the Y's diverse health and wellness offerings, I'm proud to have achieved a total weight loss of 90 lbs. There were other unexpected benefits too; my knee pain slowly diminished because I wasn't hammering my knees with the extra 90 lbs. That was a huge WOW for me! My friends who had been through knee replacement and the strenuous post-surgery physical therapy said if they could do it over they would have tried a diet and fitness approach first.
With the Y's multi-faceted wellness improvement programs, the Y will be my "go-to" resource for maintaining the goals I've accomplished to date. Between the state-of-the-art EGYM, DPP and PYP, I now find myself at the Y four times a week. I haven't felt this good in over ten years, and I attribute this to the ongoing motivation achieved through self-reflection, connections with like-minded people and a sense of belonging to a community committed to lifelong health and wellness.
Each goal I completed along my path had a cumulative effect on my overall motivation – it only got stronger. It's wonderful to know that the Y has been there for me all these years - from summer camps as a kid to helping me regain my health as a 70 year old adult. With a wide range of activities and programs, the YMCA of Metro Denver is truly a welcoming and transformative place where any person can discover their own unique path to health and well-being.
Read more about the Diabetes Prevention Program and Power Your Potential programs at the YMCA.