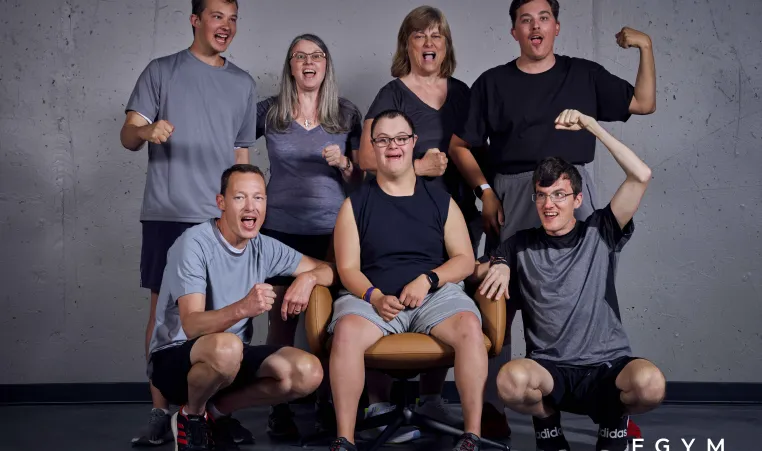 January 6, 2023
The YMCA Metro Denver has a great fitness tool that takes the guesswork out of strength training. EGYM combines state-of-the-art technology and connects you to electronic equipment that is personalized and adjusts to you while helping you keep a routine and making workouts fun. This equipment makes every move more effective in increasing strength and encouraging muscle balance.  
Members receive a wellness orientation with a YMCA coach, who will give you a free wristband and walk you through a strength assessment to find your optimal resistance setting. Your coach will also set the machine to your proper range of motion. Next time you show up, tap your wristband on the marked area, and machines will automatically set the weight level and range of motion for you. The smart equipment will adapt and progress you through a workout with an interactive screen. And all of your workouts are logged in an app without any work needed. 
Many members have found EGYM to be a great new addition to their workouts. But for one group of individuals, it has made an incredible impact. 
4Abilities is a group that believes in empowering their members to maximize their independence so they can lead happy and healthy lives. Director Kelly Wilson founded the group in 2018 after her son Ryan told her that no one is really disabled, everyone has abilities. Some are just different from others and those differences make us all stronger. Kelly created 4Abilities as a Program Approved Service Agency, and now runs the nonprofit to provide community-based support services to individuals with different abilities.  
A healthy life means prioritizing exercise - and Kelly and the 4Abilities members knew they needed to find a place that could offer something for each of them. Each member of the group is unique, and they knew they needed to find a location that could offer diverse opportunities so that everyone could partake in exercising.  
As they researched different locations, they discovered that the YMCA Metro Denver offered the EGYM circuit. EGYM proved to be accessible and non-intimidating and could be individualized to each member in a very easy way. The members immediately fell in love with the program. 
"The EGYM machines are accessible for every member of our group, and the prompts are simple to follow. Our members are able to be independent and do the workouts they enjoy on their own terms," said Wilson. "The Y has become a sweet spot and safe haven for our members, and it is one of my favorite spaces to be in with the group." 
Currently, 4Abilities members go to the Aurora YMCA three times a week. They each have found their own workouts that work best for them:  
Josh loves boxing. He will put his earphones on and do his own boxing workout in a room at the Y and he will not leave until he has burned over 600 calories. He has Down Syndrome, which can lead to low muscle tone. Since he has started working out at the Y, he has gotten much stronger and has increased his muscle tone - two things that will prolong his life according to research.  
Kelly's daughter, Shannon, has scoliosis and uses the pool to swim, which is an effective low-impact workout.  
Ryan enjoys EGYM, elliptical, stairs and treadmill cardio offerings. Because of his training at the Y, he was able to climb Mount Bierstadt this past fall.  
And Sean enjoys going to the Y because he can be independent and do his workouts, while also having the opportunity to be social.  
"Everyone can do what they're passionate about, which makes working out fun," continued Wilson. "The visuals incorporated into EGYM are awesome, the machine loads the weight for members and the screens show them how to move through the reps. The screens on the bikes allow you to pick your terrain and set up your workout for you so all you have to do is peddle. Embedding these things into the equipment helps our members develop muscle memory. They have gained so much strength in different areas because of this. You don't get this at other gyms." 
EGYM is an amenity offered at 5 YMCAs throughout the metro area. Learn more about EGYM at the YMCA.