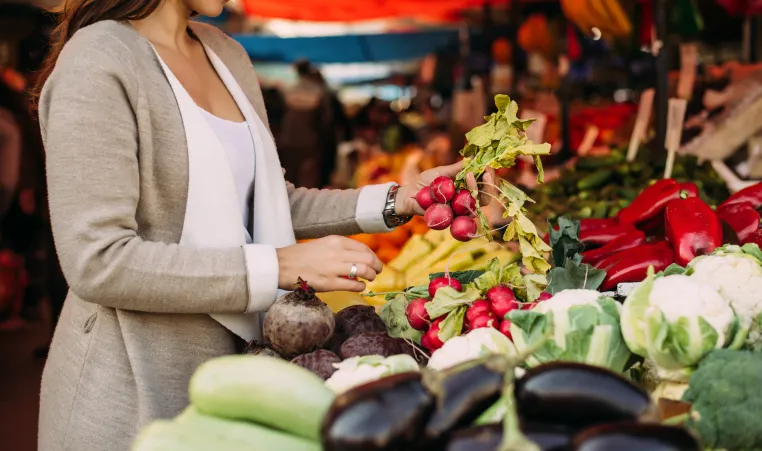 March 20, 2023
YMCA's mindful eating program focuses on the HOW of healthy eating
Who can say they've never eaten a quick breakfast in the car or consumed a bag of chips because they missed a meal—almost every week? Many Denverites live increasingly fast paced lives, but distracted eating or quickly isn't what our bodies crave. Taking a moment to slow down and pay attention can make a huge difference for satisfaction and health, which is why the YMCA of Metro Denver has spearheaded a program dedicated to mindful eating.
The Y has offered nutritional consultations for years, but this program stands out as an entirely different sort of offering. This isn't a diet course. In fact, course instructor and YMCA Nutritionist Elizabeth Bravman calls it "the opposite." It isn't really even about what to or not to eat—it's all about the "how." 
"It is about paying attention to what your body really needs and when. It is a practice for being mindful in your eating and eating experiences," Bravman shared. As a nutrition specialist with years of experience with teaching people how to eat on a budget, she created the course due to a real-life realization of her own. "I realized that I was mindlessly eating… I was disconnected. I was never present in the act of eating or paying attention to when I was hungry or stopping when I was satisfied."
Bravman rightly recognized that she was not the only one. "I wanted to bring that into focus for others… a group where people felt supported with mindful and healthy eating."
The result was a series of first-time nutrition sessions centered around paying attention and asking questions during the process of eating. For instance:
Am I truly hungry?
Am I satisfied?
Am I setting myself up for success with how my food is served?
Am I enjoying my food?
The course proceeds to unpack each topic. One participant shared how they spent a session using "all five senses on food. We used grapes in class and thought about what they look like, how they smell, etc. It helps you appreciate food for what it is and not just something you put in your mouth."
"Being curious sparks awareness, which can spark more curiosity," Bravman explained. "There is no one approach—unlike a diet, it is a practice. It looks different for everyone."
As participants consider how they are eating in the program, Bravman challenges them to put what they are learning each week into practice with tips and tricks tailored to their own experiences. Suggestions range from tactics to redirect boredom from food to activities and simple ways to be mindful when eating at parties and during other activities, like watching TV. Since sessions are capped at ten participants, there is plenty of space and time for real connections, sharing and encouragement.
"Some people eat when stressed. Others forget to eat," shared Jane, one recent class participant. "Being aware is so important, and then when you're more aware you can use the handouts as tools to address the issues."
Curiosity brought Jane to the class, and she came away with much more than anticipated. "I would certainly recommend it… It was an eye-opener class. A lot of it may be things you've heard before, but you're hearing, doing and processing it in a different way."
"I love watching some of the little "ah hah" moments that people have," Bravman added. "Some label foods as good or bad, and sometimes people realize that by labeling things as bad, it gives those foods more value and makes it hard to control eating them. Instead, it can help to have those craved foods around, but only eat them intentionally when they can be savored… [That kind of mindfulness] gets rid of the guilt and shame and stops the whole cycle. It's so cool to see how it changes some people's whole relationship with eating and enjoyment."
For Jane and others, the benefits went beyond eating as well. "You can start applying the same tactics to other things you do," Jane shared. "If you're a person who rushes, stop rushing around and start thinking 'why am I doing what I am doing right now? Does it really matter?' We're often so busy that we don't pay attention to our daily lives, and we don't appreciate anything. Being more mindful can provide better opportunities to enjoy and remember things—slow down and be in the moment."
Sounds like a great antidote to the current, fast paced culture, and a door to a healthier future for those of all ages.
Learn more about YMCA's mindful eating program and the Y's other nutritional programs.