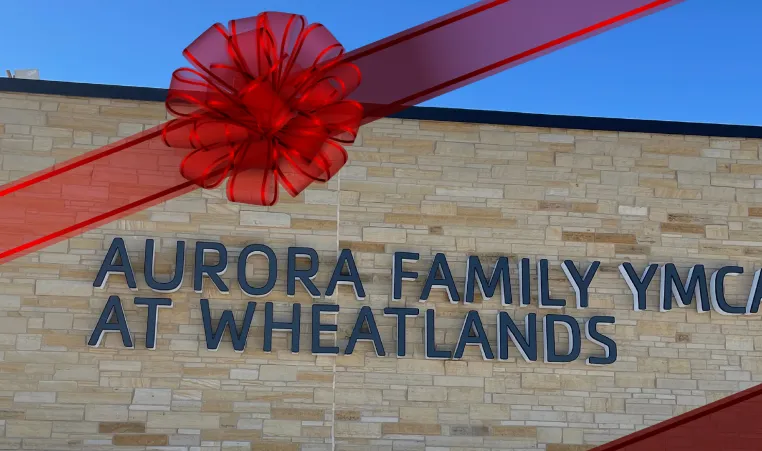 May 10, 2021
Aurora YMCA at Wheatlands to Host Ribbon Cutting Ceremony & Grand Opening 
New, state-of-the-art, 40,000 square-foot wellness center marks first new YMCA location in Denver area in 20 Years 
DENVER, CO (May 10, 2021) – The YMCA of Metro Denver, in partnership with the Wheatlands Park and Recreation Authority and Wheatlands Metropolitan District will host a ribbon cutting and grand opening ceremony for the Aurora YMCA at Wheatlands on Saturday, May 15, 2021. This occasion marks the opening of the YMCA's newest location in southeast Aurora. 
"The Aurora YMCA at Wheatlands will be a welcoming place for all, a part of the community that is dedicated to health and wellness, youth development and connection," said Sue Glass, president & CEO, YMCA of Metro Denver. "We are thankful to our partners for working collaboratively to bring this project to fruition and helping us provide YMCA programs to even more individuals, families, youth and seniors."  
The YMCA has been part of the Aurora community for more than 50 years providing youth programs through the public school districts and various community locations. The $21 million project is the result of a longtime collaboration. In a public-private partnership, the Wheatlands Metropolitan District and the High Plains Metropolitan District formed the Wheatlands Park and Recreation Authority, which owns the 8.9-acre parcel of land while the YMCA oversaw construction and will manage operations.  
"The new YMCA is a wonderful and much-needed amenity in our community," said Kathy Barela, vice president/treasurer, Wheatlands Metropolitan District and board member, Wheatlands Park and Recreation Authority. "It has been many years in the making, and we are so proud of our collaborative efforts with the YMCA, the architects and construction team and everyone else who helped make this new center a reality." 
The state-of-the-art wellness center is the first YMCA of Metro Denver to be built in more than 20 years. Barker Rinker Seacat Architecture was the designer/architect and Adolfson & Peterson Construction served as the construction contractor. The new Y features health and wellness programs, group exercise, the latest fitness and strength equipment, HIIT studio, the Joe E. Wagner Aquatics Center, which includes a lap pool and aquatics program, youth programs and much more.  
A ribbon cutting ceremony and grand opening festivities are set for Saturday, May 15 from 10 a.m. – 4 p.m. and will feature tours, equipment demos, kid's activities, as well as food trucks and refreshments. The wellness center will officially open its doors to members on Monday, May 17.  
To learn more about the grand opening event and Y's new Aurora wellness center, visit denverymca.org/locations/aurora-ymca.